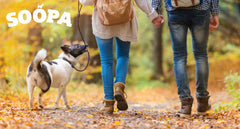 As autumn sets in, with its crisp breeze, falling leaves, and beautiful colours, it's the perfect time to bond with your furry friend on long walks and healthy snacks. Taking your dog for walks, especially in the great outdoors, is essential not just for their physical well-being but also their mental stimulation, socialisation, and overall happiness. By combining long walks with Soopa healthy snacks, you're not only keeping your dog energised but also promoting their healthy lifestyle and longevity. Here are some of the ways you can make the most of autumn with your dog:
Plan your walks around nature and explore new trails. While walking around the neighbourhood can be fine, walking along trails, parks, and other outdoor areas can be more thrilling for both you and your dog. The fresh air and natural surroundings can engage their senses and offer them plenty of opportunities to explore. Before setting out, research the best trails in your area, and plan your route and timing according to your dog's physical ability, age, and temperament.
Play interactive games on your walks. Walking doesn't have to be just about putting one foot in front of the other. Adding some playtime to your walks can make them more enjoyable for both you and your dog. For instance, you can bring a frisbee, tennis ball or other toys that your dog can fetch or chase. You can also practice obedience commands such as sit, stay, come, or heel during your walks, or try some agility exercises such as jumping over logs or weaving through cones.
Offer your dog healthy snacks during your walks. Long walks can be tiring and dehydrating for your dog, which is why offering them a Soopa snack can help them regain their energy and stay hydrated. When choosing snacks for your dog, make sure they're high in nutrients, low in calories, and free of harmful preservatives and additives. Our best-sellers this Autumn include Carrot & Pumpkin, Sweet Potato Chews, Apple & Blueberry and Banana & Peanut Butter. You can also try some healthy dog treats or make your own by mixing healthy ingredients such as oats, peanut butter, honey, and pumpkin. Check out our Recipes for more homemade inspo!
Take precautions to keep your dog safe during your walks. While autumn can be a lovely season, it can also present some risks to your dog's health and safety. For instance, fallen leaves, acorns, and twigs can pose a choking hazard or cause digestive upset if ingested. Additionally, ticks and fleas can be more active during this time, particularly in wooded or grassy areas. It's crucial to protect your dog by checking them for ticks after each walk, using tick-repellent products, and keeping them up-to-date on vaccinations and parasite-prevention medications.
Enjoy quality time with your dog and bond. Finally, one of the best ways to make the most of autumn with your dog is to simply enjoy their company and bond with them. Remember to be patient, attentive, and positive, and your walks together will remain a cherished memory for years to come.
Autumn can be a beautiful and exciting season, especially when you share it with your furry best friend. By taking long walks and offering healthy Soopa snacks, you can make the most of this season, promote your dog's well-being, and strengthen your relationship. Remember to plan your walks around nature, play interactive games, offer healthy snacks, take precautions to keep your dog safe, and enjoy quality time together. With these tips in mind, you and your dog are sure to have a paw-some autumn.