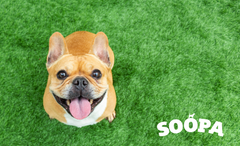 We found it rather difficult to find good quality, superior treats - treats suitable for liver and kidney disease patients. As dog owners, we're all sold the same biscuit treats with a poor protein source, or treats that have a high protein content, with little imagination or even offering health benefits.
 It's a dilemma as to what to suggest to an owner whose dog has a restricted protein diet. Limitation of ingested protein, particularly from animal sources, is crucial in order to slow the progression of chronic kidney disease and impaired renal function.
Soopa Pet Chews are a fantastic and safe treat to give your pet with the aforementioned conditions, as they are a pure, raw, dehydrated and made with unadulterated veg and fruit - our Chews are chosen for their particular healing powers in nature.
Not only will they not aggravate current conditions, but they will add other health benefits. With kidney and liver disease, the most important aspect of the food is quality, assimilation and above all, the least taxing on an already overloaded body.
Have a Soopa day!