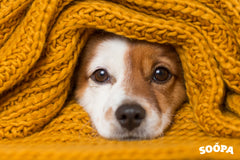 As temperatures plummet and the forecast of snow looms over parts of the UK, many of us prepare for a winter like no other. From frost bitten paws to dangers of anti-freeze, ensuring your pet is safe when out and about has never been more vital this winter.
With another national lockdown well underway, getting out for exercise, for both us and our pets, seems likes tricky task but one that can provide benefits both mentally and physically. Just like us humans, our pets need to ensure they are wrapped up warm and take precautions when exploring the outdoors in the frost and cold. Understanding the importance of safety when outdoors with your animals, here's our handy hints to keeping your furry friends safe when out in the frost this January.
Wrap up Warm
Freezing temperatures and snow covered paths are just some of the problems our pets are freezing during their regular walks this January. Fitting your dog with a warm and moveable coat is essential to ensure their core muscle groups are unharmed by the bitter chills that surround them this winter.
Insulating vital organs, wearing a coat is not just a fashion statement for your dog but vital for health and wellbeing. When selecting a coat, choose one with sufficient layering that protects them from both the rain and cold, cheaper coat (often just used as fashion garments) are poor at protecting your pooch from the extremities of the outside.
In addition to their warming properties, taking care when fitting your dog for a coat is just as important. An ill-fitting coat that is either too tight or too loose, will not be sufficient in its purpose of protecting your dog from the frost. With many pet stores open across your country, we suggest taking your dog in store to try and test coats for their fit and feel. The right coat will work wonders and provide all the support your pooch needs to combat the cold this January.
Protect Paws
With muddy puddles and harsh grit on pavements and paths this winter, our pet's paws can become damaged and sore when exposed to the winter elements. Leading to blistering and sometimes infections, protecting our pet's paws is just as important as human wearing gloves when out in the cold.
Paw balms are a great solution for protecting and soothing your dog's paws when out and about. Great for use in extreme weather conditions and affords protection against; frosty pavements, road grit, ice and salt. This blissful balm can also be used to moisturise nails, dry noses and condition calloused elbows and dry patches.
Avoid Anti-Freeze
As many of us prepare for de-icing our cars this winter, chemicals used to fight the frost are extremely toxic to our four-legged friends. When dripped off from windows and doors and left in puddles on street paths and parking areas, dogs have a tendency to catch a drink from nearby water puddles – exposing your pooch to anti-freeze ruminants can lead to a winter of worry.
We encourage all pet owners to be wary when your pet is about and about in the winter months. Even licking their paws after anti-freeze exposure can be fatal so after any walk, it is advised to clean your pets paws to avoid this unfortunate incident. Take bottles of water with you on longer walks to avoid your pet drinking from puddles outside that could have been exposed to anti-freeze because when it comes to our furry friend – being safe is better than being sorry.
So with Jack Frost appearing throughout the UK, there are no signs yet of our winter warming up. Protecting your pets is as vital as ever so follow our handy hints to keeping your January as jolly as it can be.