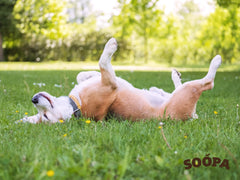 As the beautiful British weather makes an appearance this June, doing what you can to keep your furry friends cool and calm can help make your Summer as problem-free as possible. With temperatures rising and more of us spending time in the great outdoors, overheating and dehydration in our pets is a common problem in the summer months leaving many of us with nasty trips to the vets instead of quality garden time with our canine companions.
From troublesome tummies to respiratory issues, over exposure to warm temperatures can lead to nasty problems in our pets so just making some simple changes to our outdoor adventures can really ensure that we all can enjoy the sun without any stress or worry.
Happy & Hydrated
Although it may seem like an obvious one - keeping our pets hydrated throughout warmer days can help keep dehydration at bay. Unlike us humans, our pets are unable to regulate their own body temperatures and as a result can often leave themselves in sticky situations where they are left with warm noses and panting chests all because they are simply just too warm.
Like any advice when it comes to the sun, we advise keeping pets out of direct sunlight from the hours where the sun is at its peak (11am-3pm). This will avoid your pooch being exposed to the hottest times of the day. When it comes to hydration, this is much easier and more fun than you would expect.
Brands such a Chuck it! (found in pet retailers across the UK) have a brand of toys dedicated to keeping your pet hydrated when out and about. Their Hydro Squeeze range of toys are meant to soak up fresh cold water and dispense into your dog's mouth when bitten or chewed meaning a game of fetch can keep your dog cooler than ever before.
Ensuring you have water for your pet when embarking on any walk or activity in warmer weather will keep dehydration at bay and prevent your pet from experiencing any pesky problems when they get too hot when having fun in the sun.
Invest in a Sun Shade
There really is nothing better than lying back on a Summer's Day with a canopy cooling you off when it gets too hot. When parasols and gazebos aren't an option or for those of you that prefer to soak up the sun as much as possible, investing in a sun shade for your furry friend means they can enjoy the beauty of our British gardens without the scorching sun on their skin.
Despite sounding like a costly piece of equipment, a sun shade for your dog may be cheaper than you think. With discount stores offering pop up shades for children at pawfect prices, these terrific tents are a lush location for your furry friend to cool down after playtime in the sun. Simply kit out with a water bowl and their favourite chew and watch them chill for hours whilst you all enjoy the relaxation of our blissful British weather.
Set up a Swimming Pool
Even though the thoughts of our pets enjoying an afternoon sipping bubbly in a hot tub sounds amusing, giving them a safe space to splash around is great for play and beneficial to their health in the sunshine.
With our pet's claws often sharp and strong, we recommend investing in a plastic paddling pool if you wish your dog to have a splash in your garden over the summer (you may find an inflatable pool will pop after it's first use).
Having access to fresh water to both drink and play within, our dog's can cool themselves down in the most fun of ways. This is also a great way to introduce your dog to water and build confidence of being both near and in watered areas. There really is nothing more joyful than watching your four-legged friend splash around in the sun and ultimately will provide pawfuls of playtime whilst keeping them cool for hours on end.
So as the weather warms across the UK, keep your pooch happy and hydrated this summer and enjoy the great outdoors with your furry friend by your side.