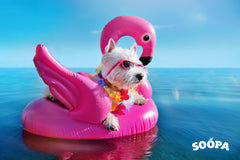 Dogs can get sunburnt too! And most human formulations contain ingredients that are dangerous to dogs. There are plenty of foods you can add to your pets diet to decrease the likely hood of getting sunburnt but if you are looking for a topical treatment then we have a recipe for you! Quick and easy to make up and safe to apply to your pooch.
Dogs with short hair, no hair, or dogs that spend a lot of time in or on the water are most at risk for getting burnt.But even hairy dogs are at risk especially on the nose, ears, and belly.
Soopa Simple Suncream Recipe:
Ingredients:
160g pure aloe gel
5 tbsp coconut oil (in its thick form)
3 capsules of vitamin E oil or half a tsp
5 drops of lavender oil
20 drops of red raspberry oil
Method:
1) Simply mix all the ingredients together.
Aloe Gel is the base for all the ingredients but it has excellent after sun properties and is a natural moisturiser. Coconut oil is high in lycopene which is a very powerful phytonutrient and antioxidant which acts as the skins natural sunscreen. Red Raspberry oil has an excellent SPF rating (30 to 50 SPF). It is rich in vitamin E which is also a natural preservative. Lavender oil has excellent sun blocking properties
Cautions:
Don't use essential oil sun-screen on puppies that are younger than 8 weeks of age.Do not use aromatherapy or perfume essential oils as they are produced by distillation with solvents that are toxic to dog.