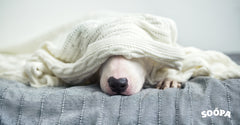 With Bonfire Night fast approaching, many of us fret over the reactions and behaviour of our four-legged friends. As the sky is illuminated with an array of colour, the loud cracks and bangs often send our furry friends into an absolute frenzy.
From cowering under tables, hiding behind sofas and shaking uncontrollably, many of our canine companions have a variety of reactions when Bonfire Night begins. No matter how magical the sky becomes, nothing is worth putting our pets into uncomfortable situations so we have a range of remedies to keep your pets as cosy as ever when the fireworks begin.
Lather in some Lavender
Known for its calming and soothing abilities, this blissful botanical is everything you and your dog need for relaxing night in. With many grooming shampoos, conditioners and sprays loaded with luxurious lavender lathering this ingredient into your dog's skin and fur has never been simpler.
What's even better is lavender is edible and can even be given to your dog as a bedtime treats to soothe them into a pawfect night's sleep. Before the night begins, use a lavender based grooming product on your dog which can help ease that anxiety and fight any firework frights that might occur.
Use Valerian Compound
Widely used as a radical remedy for noise phobias and fears associated with loud noises such as fireworks, thunder and gun-fire, Valerian compound is an excellent calming aid for our furry friends.
Valerian is an herb that is native to Europe and parts of Asia but also grows in North America.  The medicinal compound is made from the root and is most commonly used for sleep disorders, especially the inability to sleep (insomnia).
Used to calm anxious dogs, despite its sedative effect, this supplement will not sedate your dog. Aiming to combat the increase anxiety levels in your canine, Valerian soothes those heart-racing thoughts and keeps your dog feels cosy and comfortable no matter what the trigger. Should not be fed to puppies, senior dogs or dogs with serious health issues unless Vet approves first. Check out our homemade calming dog treat recipe here!
Create a Cosy Corner
We all know the importance of snuggling up when we are feeling overwhelmed. Many of us seek weighted duvets, fluffy blankets and the dark to soothe us when everything becomes too much. For our dogs, whenever they are feeling nervous and anxious, they seek a place of comfort and cosiness.
To relax and unwind your four-legged friend before the big night begins, set them up a cosy corner for them to retreat when the evening becomes overwhelming. Pack their bed with fluffy blanket, some tasty treats and a soothing plush toy to give them the feeling of warmth and comfort for when their anxiety sets in. With a range of fluffiness readily available, your dogs will appear calmer and more relaxed knowing they have a safe place all night long.
Thunder Shirt
For dogs with extreme anxiety check out the 'Thunder Shirt' which has helped many dogs with extreme anxiety during fireworks, thunder storms, travel, vet visits, separation anxiety and more!
So as people prepare for evening of crackling fires and soaring explosions of colour, follow our top tips to keeping your four-legged friend feeling safe no matter what bangs and crashes they might hear from outside their cosy walls.