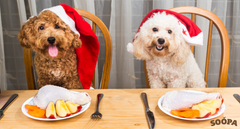 As we begin preparations for the biggest meal in our calendars, many of us sit and ponder about what part of Christmas Dinner our dogs can also indulge in. From turkey with trimmings to scrumptious roast potatoes, there is nothing more delicious than a feast at Christmas. So as the aroma of your royal roast dances in the nostrils of your four-legged friend – we have made a list of what your dog can dine on at dinner and foods to keeps their tails wagging all Christmas day long.
Having a Dog-Friendly Dinner
DO treat your four-legged friend to a few slices of fresh turkey. Low in fat and packed full of delicious protein, turkey is a tremendous treat for your pooch on Christmas Day. Turkey can also be an ideal protein source for dogs that have developed intolerances and allergies to meats such as Chicken and Beef.
Make sure to remove any bones, avoid the skin or any surrounding stuffing and take the meat from the breast of the bird to ensure a boneless and succulent slice.
DON'T feed your pooch any nuts on the day. From hazelnuts to walnuts, nuts can be just as toxic as chocolate for our four-legged friends. If they would like a nutty treat, try spreading some peanut butter onto a piece of fruit such as apple or banana and give your dog that festive nutcracker feeling.
DO give them carrot whilst you are preparing dinner. Acting as nature's own dental stick, it would be hard to find any dog that doesn't love chomping on a carrot or two. When cooked both carrots and parsnips are a fantastic treat for your four-legged friend.
Make sure to avoid vegetables coated in extra fat or oil. Steamed/boiled carrots are a great source of beta-carotene for your pet.
AVOID eat any balls or pieces of stuffing. Often containing onions, these smelly yet delicious vegetables can be toxic to our furry friends and leave them with upset tummies and you will a whole load of mess to clean up on the big day. If you are preparing your own stuffing with sausage meat that is absent of onions – this is a delightfully meaty treat for your furry friend.
DON'T give your dog any form of chocolate during the day. Containing toxic Theobromine, keep any delicious desserts away for your furry friend at Christmas to avoid any unwanted trips to the vets after dinner has been served.
DO give your pooch a handful of fresh fruit. Berries such as forest fruits are a fabulous little treat for your canine companion this Christmas. Full of rich anti-oxidants, these fruits of the forest are pawfect for a little sweet treat on Christmas day. Apples are also a brilliant and tasty reward for your four-legged friend. Apples are an excellent source of vitamins A and C, as well as fibre for your dog. They are low in protein and fat, making them the perfect snack for senior dogs.
For an added treat, mix in a little plain, natural and no added sugar yogurt with your dog's fruit and watch their tails wag all day long.
With pieces of turkey, fresh carrots and perhaps the odd pig in blanket, your pet will have pawfulls of delicious treats to enjoy on Christmas Day that will keep their tails wagging and your smiles widening throughout your Christmas festivities.
Looking for a super easy AND delicious homemade dog treat recipe? Then check our this peanut butter and chia seed Christmas cookies recipe here !