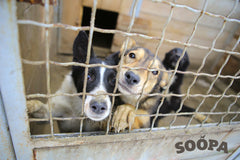 For pet owners around the world, we can all admit we couldn't have survived this year without our four-legged friends. Providing much needed love and support through one of the most memorable years of our lives, our pets have ensured we felt accompanied, loved and safe during months of isolation and time away from the outside world.
With pet adoption on the rise this year, charities such as The Dog's Trust have seen an influx of love for animals in their care to support us through our time at home. But as the world slowly comes of isolation and back to normal, there is no better time to show your support for the furry kind than adopting an animal this Christmas.
Dedicated to caring for animals no matter what their background or histories, the team at Dog's Trust are one charity that gives a little more than gifts this festive season. Loving, caring and supporting animals to new homes and new lives, we applaud the hard work the Dog's Trust do to make animals lives the best they possibly can.
Carefully matching their dogs with loving families and individuals, their rehoming process is created to ensure that each and every dog is suited to their new and loving homes. It is not just as simple as choosing your new pet. Prospective owners are considered and vetted and the decision is made by the trust whether the new home is 100% suitable for the dog in question because when it comes to rehoming…only the best will do.
With hundreds of animals in their care, this charity is relentless in their journey to ensure animals in the UK live a long and happy life. As pet adoption is no easy decision, The Dog's Trust is there to support both animals and new owners in every step of the journey.
Why Adopt?
When it comes to selecting a furry friend to take home, pet adoption is often a second choice over than buying from a breeder. However, the benefits and rewards from adopting an animal can be rather overwhelming.
By adopting from a shelter or charity, you are providing an animal with the second chance they deserve. Many animals have been rescued from horrendous circumstances and long for a loving home filled with unconditional love and support. In addition, there are also circumstances when owners can no longer look after pets due to illness or a change in situation – no matter what the circumstance – sheltered animals can often be the best pets around.
Animals in shelters are normally spayed, neutered and have their vaccinations when in the care of the charity, ultimately saving you costly upfront bills when purchasing your furry friend. Animals in shelters often are more likely to be housetrained, behaviour monitored and more inclined to be affectionate (after introduction) due to their need for a loving home and family.
When it comes to animal adoption, ultimately you are saving a life and really…there is nothing more festive than giving a little love.