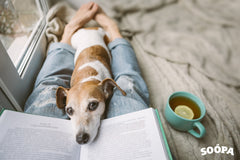 As frosty weather and darker days dawn upon us, surviving a Post-Christmas winter can make us all feel a little blue. With our twinkling trees and boughs of holly being stored away for another year, January can be a tough time on us all. Now with a national lockdown well underway, keeping our spirits up can seem like an impossible task.
However, like the saying goes, with every cloud comes a silver lining so yet again many of us are confined to our homes with our four-legged friends. Being the force behind our happiness and comfort in the previous year, our pets really are responsible for keeping us going when we are stuck at home. So as the nation sets in for a winter like no other, here's the ways, your pooch can help you defeat those January blues.
Explore More
Preparing for more time at home, many of us ponder ways in which we can keep ourselves busy in-between our work from schedules. From exploring the outdoors to simple walks down the road, getting ourselves out of the house can do wonders for both our physical and mental health.
Spending time with your furry friend outside the house can strengthen the bond between you no matter what age of pooch you have. Socialising your pooch (if you have a puppy) can do wonders for their confidence later on in life and allows them to experience new people and new dogs if they haven't previously before.
Taking your dog for a walk can do wonders for your own mental health too. Allowing yourself to have fresh air and exercising regularly can boost endorphins leading to better mood and overall health. A walk with your dog is just not beneficial to them but great for yourself too. So when it comes to wanting to escape those four walls – grab and coat and lead and explore something new with your dog today.
Teach them a Trick
We would be lying if we didn't find our dogs doing tricks cute beyond belief. From simple fetch to rolling over, there is no better time like the present to teach your dog a new trick. With more time at home, if you are a new owner, this time now is ideal if you wish you train your dog to play fetch or retrieve toys or chews on command. Spending this quality time together will not only boost your relationship but will keep both you and your dog stimulated helping to avoid any worry or anxiety whilst at home.
For those with extra pully dogs, you can use this time to practise correct lead behaviour by simply taking your dog out in the garden or down the road with treats in your hand and their lead clipped on. With a selection of both healthy and tasty treats here at SOOPA, we have everything you need to help teach your dog something new this January.
Snuggle Up
There really is nothing better than coming home from work and having a good cuddle with your pet. Being at home more than ever means many of us get to enjoy having that snuggly sensation all day long. But did you know cuddling your pet can have significant benefits for your mental health?
Research actually suggests that cuddling stimulates the release of serotonin and dopamine in the brain, the transmitters responsible for keeping depression at bay, ultimately making us feel happier. Snuggling into your pawfect pooch can release these same transmitters meaning just a simply touch of your dog can make you feel instantly better.
But hugs aren't just effective for us humans. Having a snuggle from their owners can boost and solidify their feelings and emotions too. Unable to communicate with us verbally (we wish only they could), our pets often rely on physical contact to express how they are feeling. Their anxieties and worries can actually be eradicated by a simply cuddle from their owner. So with positive effects for yourself and your pet, a cuddle a day really can keep those January Blues at bay.
Providing us with unconditional love each and every day, spending quality time with your dog really can help to keep those worries away and ensure that your winter is a wonderful as it can be.