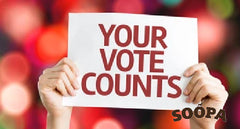 Are you a dog owner, searching for a healthy and delicious treat for your furry friend? Look no further than Soopa's new Banana and Peanut Butter Jumbo Dental Sticks! We are overjoyed to share that our new product has been shortlisted for the PPM Retailer Recommended Awards. Our Jumbo Dental Sticks are perfect for larger breeds of dogs and are grain-free and hypoallergenic. Plus, they come in three delicious flavours that your dog will love! We would be thrilled if you could take a moment to cast your vote before May 19th.
Dog owners know how important it is to maintain their pet's dental hygiene. Regular brushing, checkups, and dental cleanings can be expensive and time-consuming. Dental treats like Soopa's Jumbo Dental Sticks offer a simple solution to promote oral health. Chewing on our sticks can help remove plaque and tartar buildup, reducing the risk of dental disease. Our Banana and Peanut Butter flavour is sure to be a hit with your dog, and the Jumbo size is perfect for larger breeds or heavy chewers.
At Soopa, we are committed to using only the best ingredients in our products. Our Jumbo Dental Sticks are made from natural, human-grade ingredients that are free from harmful preservatives and additives. Plus, they are cruelty-free, grain-free, and hypoallergenic, making them a great choice for dogs with food sensitivities. You can feel confident that you are giving your dog a treat that is both healthy and delicious.
Voting for Soopa's Jumbo Dental Sticks in the PPM Retailer Recommended Awards would be an incredible achievement for our small business. We take great pride in creating high-quality, natural products for pets. Being shortlisted for this award is a testament to the hard work and dedication of our team. Winning the award would be an amazing accomplishment and help us reach even more dog owners looking for healthy and tasty treats for their pets.
So, how can you vote for us? Simply head to https://www.petproductmarketing.co.uk/retailer-recommended-awards and select "Soopa Banana & Peanut Putter Jumbo Dental Stick" under the "Dog Treat of the Year" section. It only takes a minute and every vote counts! We appreciate your support and are grateful for the opportunity to be recognised for our new Jumbo Dental Sticks.
Thank you for your support, and we look forward to continuing to provide healthy treats for your furry friend.