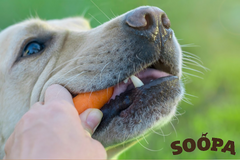 Just like us humans, your dog's teeth need to be kept in the best shape possible. As February marked Pet Dental Health Month, we want you to spring into March with a little more awareness of how you can help keep your dog's teeth and gums looking as clean and healthy as ever before. 
Understanding the need to maintain great oral hygiene in our pets, our Soopa snacks do more than just taste great. Packed with pawfulls of ingredients to keep your dog's teeth…and breath smelling as fresh as a daisy, here's how our delicious dental sticks can help keep those pearly whites staying white and eliminate bad doggy breath with each and every bite. 
Soopa Dental Sticks: Best For Beating Bad Breath
Does your dog have bad breath? Are you at a loss of how to stop their stinkiness? We have the solution for you. 
At the heart of Soopa's scrumptious snacks is our range of delightfully delicious dental sticks. With a plethora of pawtastic flavours, our dental sticks are our best-selling treat year upon year. One flavour that stands out for its oral care magic is Kale & Apple. 
The combination of antioxidant kale and breath freshening green apple makes these a dental stick with a difference. Featuring no chemical based ingredients to keep your dog's breath smelling fresh, these 100% natural, nourishing and nutritionally beneficial treats will most definitely keep doggy bad breath at bay. 
Natural Fruit & Veg Chews: Best for Healthy Gums
For dogs that adore fruits and root veggies, there are no treats on the market quite like our Natural Fruit & Veg Chews. Made with 100% human-grade and all-natural coconut, papaya and sweet potato, these chews are great for clean teeth, massaging gum lines and keeping your pet's breath clean and smelling beautiful. 
Created with naturally dried fruits and veggies, these firm and chomptastic chews are a great source of vital vitamins for your furry friends whilst providing a chew that is durable and long-lasting. As your dog chews, the texture of the chew helps (painlessly) scrape their teeth to remove nasty plaque and tartar build-up. During chewing episodes, chews work their way in-between your dog's teeth, massaging gum lines to help prevent issues such as gingivitis (gum disease) which if untreated can lead to decay and tooth loss. 
Available in these fantastic flavours: Coconut, Papaya and Sweet Potato. Your dog certainly is spoiled for choice with this range of snacks with oral Soopapowers. 
Healthy Bites: Best Low-Fat Dental Treats
We all know our dogs can sometimes gain a few extra pounds. However, not all treats have to be unhealthy. Our superb selection of Healthy Bites are fantastic for maintaining oral health whilst helping to keep weight gain at bay. 
At just 3 calories per bite, these treats are a great help to your dog's teeth and breath, both in-between brush times and on-the-go when your pooch may have chomped on something they shouldn't. In the same fantastic flavours as our dental sticks, buying a combo-pack of dental sticks and healthy bites can keep your dog all the oral support they well and truly need. 
To help manage your dog's teeth and to keep bad breath at bay. Give them a little something Soopa this spring.