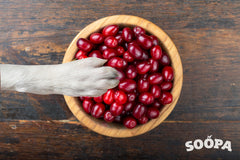 Many of us would say that Christmas dinner couldn't be served without this delicious saucy treat. Rich in flavour and sweetest of tastes, our Christmas wouldn't be the same it if wasn't for this king of condiments.
Cranberry sauce has been used alongside our turkey and trimmings for centuries, adding a sweet and tangy side to our juicy and flavourful turkeys, cranberry sauce is a poignant figure in our Christmas dinner celebrations…but did you know cranberries are super beneficial to our dogs.
In their purest form, free from added sugar and preservatives, cranberries can be a substantial super food in your dog's diet and provide a pawful of wholesome goodness that your dog will love time and time again. With heaps of benefits and packed into our tasty treats, here's why you need to give your dog Crantastic Christmas this year. 
Brilliant Benefits
Providing support for both your dog's immune and digestive system, cranberries are one of the best anti-oxidants Mother Nature has to offer. Just a handful of berries in your dog's diet can actively improve their immune function working to keep them safe from winter bugs and maintaining a glossy coat and healthy skin. As tempestuous winds beat down on our dog's in times of play, their coats and fur take a bashing so just a few bites of blissful berries can work at keeping matted fur and itchy skin at bay.
Helping to assist healthy gut functions, cranberries are an excellent source of fibre providing support for dogs with troublesome tummies such as diarrhoea and constipation as they can help regulate bowl movements keeping your four-legged friend as healthy as ever. These blissful berries are so packed with fibre they also act as amazing filling agents making them superb for dogs on weight management plans or suffering from obesity. With fantastic fruitiness and brilliant benefits, this is one berry your dogs will definitely want to chomp.
With this incredible ingredient featuring in our dental sticks and healthy bites, your dog is sure to reap the benefits of this brilliant berry in our range of tasty treats. Packed with wholesome goodness and delicious to the very last bite our low-fat and natural treats will give them a taste of Christmas each and every day.
Packed with the super antioxidant of cranberry, these excellent treats are ideal to maintain healthy teeth and gums. With added Flaxseed, it acts as sensational support for dogs and will help protect canines who suffer from troublesome tummies all day long.
As Christmas creeps just around the corner, giving your dog a mixture of both our dental sticks and healthy bites won't just give you a hearty dose of cranberry goodness but will make a fantastic festive gift for your four-legged friend too…because when it comes to Christmas…the more cranberries the better.
With our cranberry treats available in multipacks across both our dental sticks and healthy bites, there's no doubt with Soopa that your pooch will have a very berry Christmas.